Construction Chute 60TPH Spiral Chute Manufacturer In China
Product Description
#detail_decorate_root .magic-0{width:750px}#detail_decorate_root .magic-1{overflow:hidden;width:750px;height:102.68456375838926px;margin-top:0;margin-bottom:0;margin-left:0;margin-right:0}#detail_decorate_root .magic-2{margin-top:0;margin-left:0;width:750px;height:102.68456375838926px}#detail_decorate_root .magic-3{border-bottom-width:2px;border-bottom-style:solid;border-bottom-color:#53647a;background-color:#c5ccde;margin-left:0;margin-right:0;padding-left:8px;padding-right:8px;color:#53647a;font-family:Roboto;font-size:24px;padding-top:8px;padding-bottom:4px}#detail_decorate_root .magic-4{vertical-align:top}#detail_decorate_root .magic-5{padding:0;margin:0;color:#333;font-size:14px;white-space:pre-wrap}#detail_decorate_root .magic-6{padding:0;font-size:16px;line-height:20px;font-weight:bold;color:#333;margin:0}#detail_decorate_root .magic-7{vertical-align:top;display:block;padding-right:4px;box-sizing:border-box;padding-left:4px}#detail_decorate_root .magic-8{vertical-align:top;padding-bottom:4px;box-sizing:border-box;padding-top:4px}#detail_decorate_root .magic-9{padding:0;margin:0;white-space:pre-wrap;font-size:14px}#detail_decorate_root .magic-10{margin:0;padding:0}#detail_decorate_root .magic-11{overflow:hidden;width:750px;height:999.5598591549297px;margin-top:0;margin-bottom:0;margin-left:0;margin-right:0}#detail_decorate_root .magic-12{margin-top:0;margin-left:0;width:750px;height:999.5598591549297px}#detail_decorate_root .magic-13{overflow:hidden;width:750px;height:319.207px;margin-top:0;margin-bottom:0;margin-left:0;margin-right:0}#detail_decorate_root .magic-14{margin-top:0;margin-left:0;width:750px;height:319.207px}#detail_decorate_root .magic-15{overflow:hidden;width:750px;height:318.431px;margin-top:0;margin-bottom:0;margin-left:0;margin-right:0}#detail_decorate_root .magic-16{margin-top:0;margin-left:0;width:750px;height:318.431px}#detail_decorate_root .magic-17{overflow:hidden;width:750px;height:316.221142162819px;margin-top:0;margin-bottom:0;margin-left:0;margin-right:0}#detail_decorate_root .magic-18{margin-top:0;margin-left:0;width:750px;height:316.221142162819px}#detail_decorate_root .magic-19{overflow:hidden;width:750px;height:601.829px;margin-top:0;margin-bottom:0;margin-left:0;margin-right:0}#detail_decorate_root .magic-20{margin-top:0;margin-left:0;width:750px;height:601.829px}#detail_decorate_root .magic-21{width:750px;border-collapse:collapse}#detail_decorate_root .magic-22{padding:5px 10px;overflow:hidden;width:114px;box-sizing:content-box}#detail_decorate_root .magic-23{text-align:center}#detail_decorate_root .magic-24{display:none}#detail_decorate_root .magic-25{padding:5px 10px;overflow:hidden;width:164px;box-sizing:content-box}#detail_decorate_root .magic-26{padding:5px 10px;overflow:hidden;width:89px;box-sizing:content-box}#detail_decorate_root .magic-27{padding:5px 10px;overflow:hidden;width:90px;box-sizing:content-box}#detail_decorate_root .magic-28{padding:5px 10px;overflow:hidden;width:57px;box-sizing:content-box}#detail_decorate_root .magic-29{padding:5px 10px;overflow:hidden;width:59px;box-sizing:content-box}#detail_decorate_root .magic-30{padding:5px 10px;overflow:hidden;width:44px;box-sizing:content-box}#detail_decorate_root .magic-31{padding:5px 10px;overflow:hidden;width:47px;box-sizing:content-box}#detail_decorate_root .magic-32{padding:5px 10px;overflow:hidden;width:45px;box-sizing:content-box}#detail_decorate_root .magic-34{font-size:48px}#detail_decorate_root .magic-35{font-size:18px}#detail_decorate_root .magic-36{overflow:hidden;width:750px;height:583px;margin-top:0;margin-bottom:0;margin-left:0;margin-right:0}#detail_decorate_root .magic-37{margin-top:0;margin-left:0;width:750px;height:583px}#detail_decorate_root .magic-38{overflow:hidden;width:750px;height:314.399px;margin-top:0;margin-bottom:0;margin-left:0;margin-right:0}#detail_decorate_root .magic-39{margin-top:0;margin-left:0;width:750px;height:314.399px}#detail_decorate_root .magic-40{overflow:hidden;width:750px;height:317.625px;margin-top:0;margin-bottom:0;margin-left:0;margin-right:0}#detail_decorate_root .magic-41{margin-top:0;margin-left:0;width:750px;height:317.625px}#detail_decorate_root .magic-42{overflow:hidden;width:750px;height:313.7065637065637px;margin-top:0;margin-bottom:0;margin-left:0;margin-right:0}#detail_decorate_root .magic-43{margin-top:0;margin-left:0;width:750px;height:313.7065637065637px}#detail_decorate_root .magic-44{overflow:hidden;width:750px;height:280px;margin-top:0;margin-bottom:0;margin-left:0;margin-right:0}#detail_decorate_root .magic-45{margin-top:0;margin-left:0;width:750px;height:280.374px}#detail_decorate_root .magic-46{overflow:hidden;width:750px;height:375px;margin-top:0;margin-bottom:0;margin-left:0;margin-right:0}#detail_decorate_root .magic-47{margin-top:0;margin-left:0;width:750px;height:375px}#detail_decorate_root .magic-48{overflow:hidden;width:750px;height:1579.6875px;margin-top:0;margin-bottom:0;margin-left:0;margin-right:0}#detail_decorate_root .magic-49{margin-top:0;margin-left:0;width:750px;height:1579.6875px}#detail_decorate_root .magic-50{margin-bottom:10px;overflow:hidden}

Product Description Description of gravity separator machine
Spiral chute
for chrome separation plant : Spiral separator is one of the gravity concentrators, which separate minerals of different specific gravity according to their relative movement in response to gravity, centrifugal force and other forces in the fluid medium. It has extremely good performance and effects in processing placer of beach, riverside, seashore and stream. It has some incomparable advantages, such as reasonable structure, easy installation, small space, convenient operation.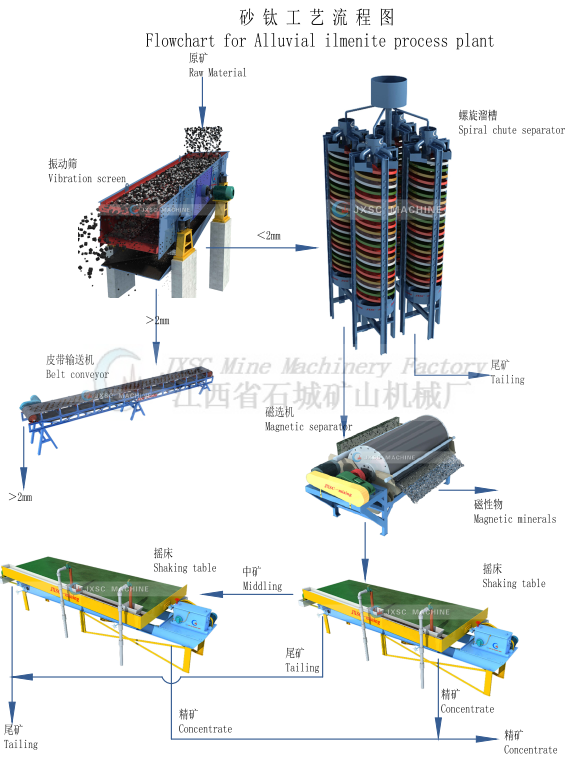 Spiral chute Details
: We located at Spiral machines manufacture zone, mass produce since 1985.And the high quality and competitive price spiral well market to Indonesia, Africa.
JXSC spirals are made of polyurethane lined fiber glass with wearable corundum inner surface. Generally there are 5 turns in one start, single, twin, triple and quad starts available per column to suit capacity requirments.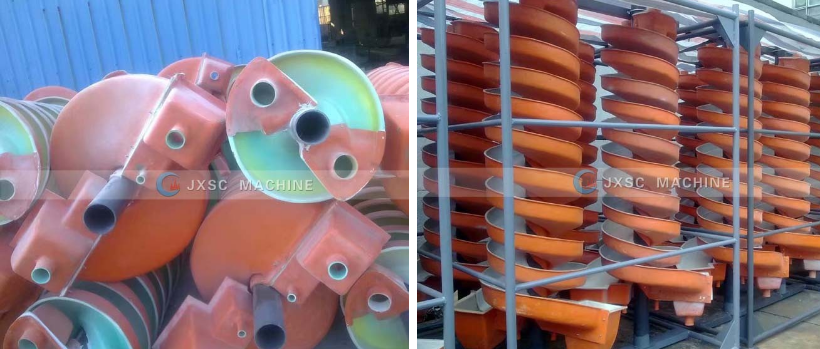 Brief introduction: Spiral chute is the best concentrating equipment, especially for concentrating sand ore in seashore and riverside. It is made of the fiberglass lined with wear-resistant polyurethane and corundum cover; The advantages are light, moisture proof, and anti-rust, corrosive proof and no noise, properly suitable for the different feeding particle sizes and grades.
It has been used in to classify the granularity 0.3-0.02 millimeters fine grain like iron, tin, tungsten, tantalum-niobium, gold
ore, coal mine, monazite, rutile, zircon and other metals. The non-metallic minerals which have a big enough specific gravity difference..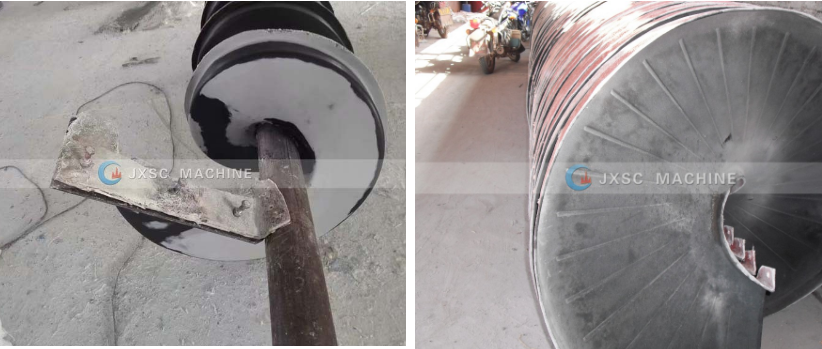 new type spiral chute Our spiral chutes are use new technology, the chute be produced by one mold, not as the old design, one piece connect one piece, and the surface have epoxy glue covered, the recovery rate much high than any others.
Our advantages are providing professional minerals process solution, complete set equipments and after-sale engineer installation service for Alluvial
gold washing plant
/alluvial tin ore/tungsten ore/iron sand ore/ hematite ore/chrome ore/tantalum-niobium ore/coltan ore, as well as many rock ores.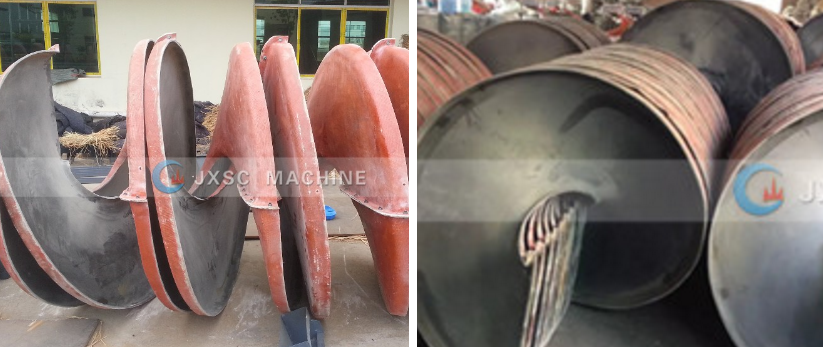 Features of gravity separator machine spiral chute for chrome separation plant : 1..High processing capacity, excellent efficiency, High recovery ratio, and precise separation.
2. Reasonable structure and small occupation area.
3. Light in weight, rush and corrosion resistant.
4. Low operating cost and long operating life.
5. Reliable running with minimal operator attention.
6. Strong adaptability to fluctuation of feeding amount, density, size and grade.
Technical data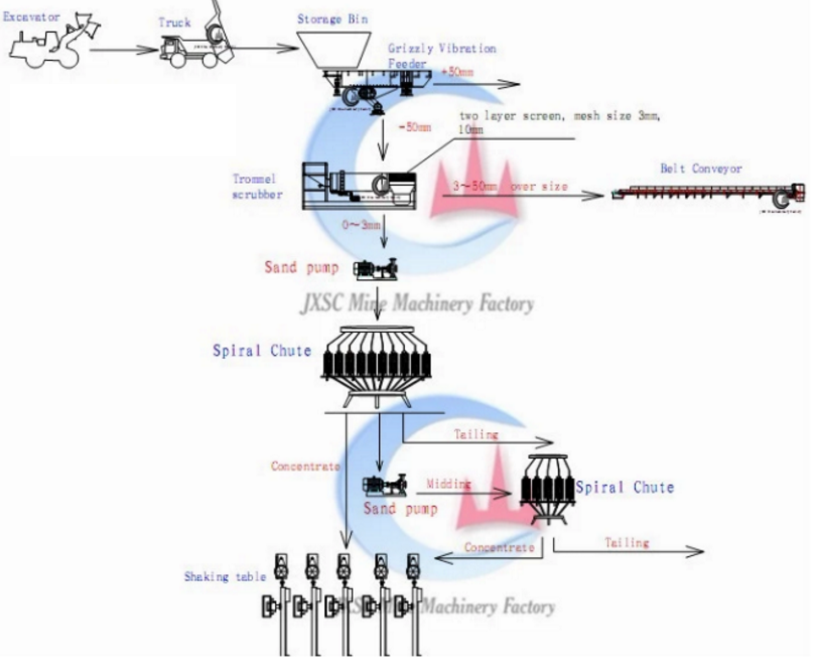 | | | | | | | | |
| --- | --- | --- | --- | --- | --- | --- | --- |
| | | | | | | | |
| Outside dia (mm) | | | | | | | |
| | | | | | | | |
| | | | | | | | |
| | | | | | | | |
| Maximum starts per column | | | | | | | |
| | | | | | | | |
| | | | | | | | |
| | | | | | | | |
| | Length (mm) | | | | | | |
| | Width (mm) | | | | | | |
| | Height (mm) | | | | | | |
| Weight (Kg) | 1200 | | | | | | |
after-sales service
We can send engineers to guide the installation and provide perfect after-sales service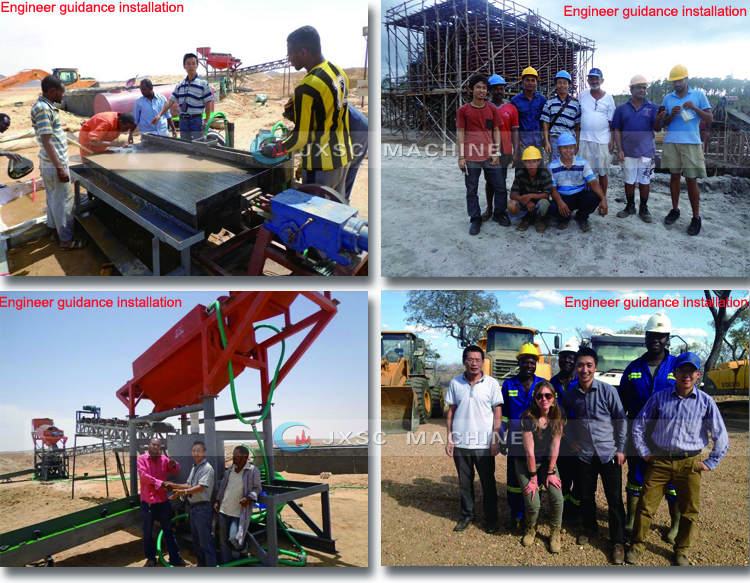 ENQUIRE NOW! Products application Spiral Chute Application in Tanzania for ilmenite capacity:100TPH
Mineral:ilmenite
feeding size:3mm
site:Tanzania
machines:hopper,spiral chute,
Shaking Table
,pumps and etc
JXSC Chief Engineer Mr. Lee services at customer's ilmenite ore site to guide for installation, commissioning, start up and
training.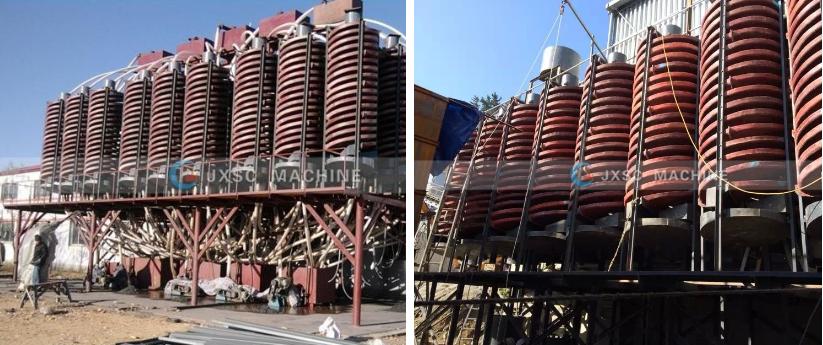 Malaysia
Silica Sand Processing
Plant
One of our customer in Malaysia purchased one complete Silica sand processing equipments.The plant including Enrichment Sprial Chute,
Water pump
,Surry Pump etc. Enrichment spiral chute are widely used in his mine site.We also offered many spiral chute plants in Malaysia ,Australia etc.
We can your processing plant Custom Chutes for you according to your mine details.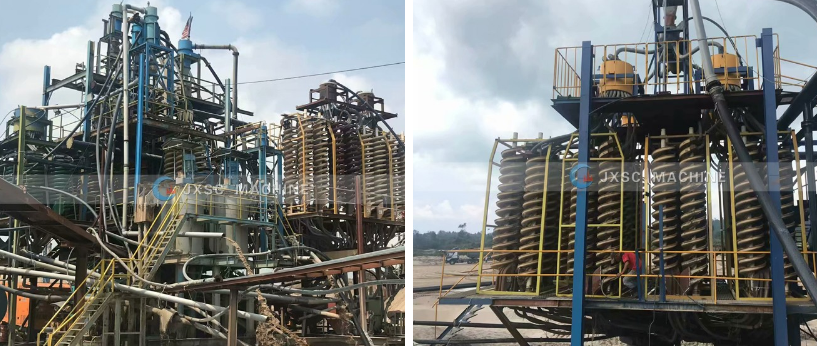 Our project distribution: We have provided the spiral chute  for many customers in Sudan,Mali, Mozambique, Nigeria, Suriname, Ghana, South Africa, Uganda, Zambia, Tanzania, Angola, Canada, Austrialia, Chile, Peru,ect. For Alluvail gold washing plant, coltan ore mining plant, diamond washing plant, Iron ore washing plant,ect..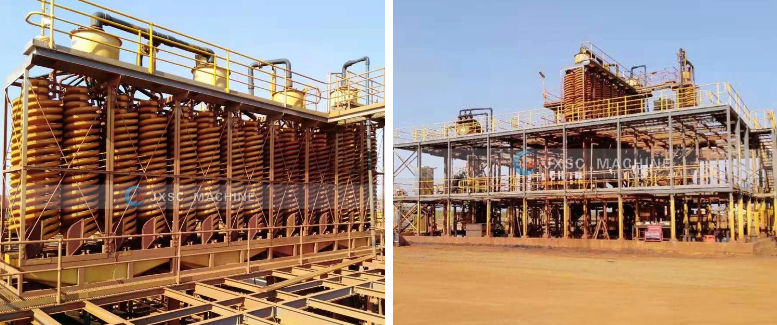 Packing & Delivery Spiral Chute Packing/Loading 1. Spiral Chute
Spare Parts
would be packed in wooden boxes to avoid broken.
2. Spiral Chute are fixed and loaded in container directly.

Spiral Chute Shipping 1. Spiral Chutes are shipped in 40'HQ Containers by sea.
2. Spiral Chute can be also shipped by air if customers request. 
Our Company
Jiangxi walker Machinery Co.,Ltd, is a professional manufacturer of complete set mining equipments, a sub-company of JXSC mine machinery factory in Jiangxi province. professional at providing complete set processing equipments for Gold ore /Tin ore /Tungsten ore /Iron ore / Diamond/ Coltan ore / Silica sand / Zircon sand/ Black sand/Chrome ore, ect. As well as complete set small lab mining machines.
Our Core Advantages as below :
1.+30 years history FACTORY at mining machinery
2.Provide engineer team after sales service
3.Provide Complete set
Mineral Processing Plant
4.Provide Sample testing service in factory lab for free
5.Provide professional Mining Solution Consulting
Our customer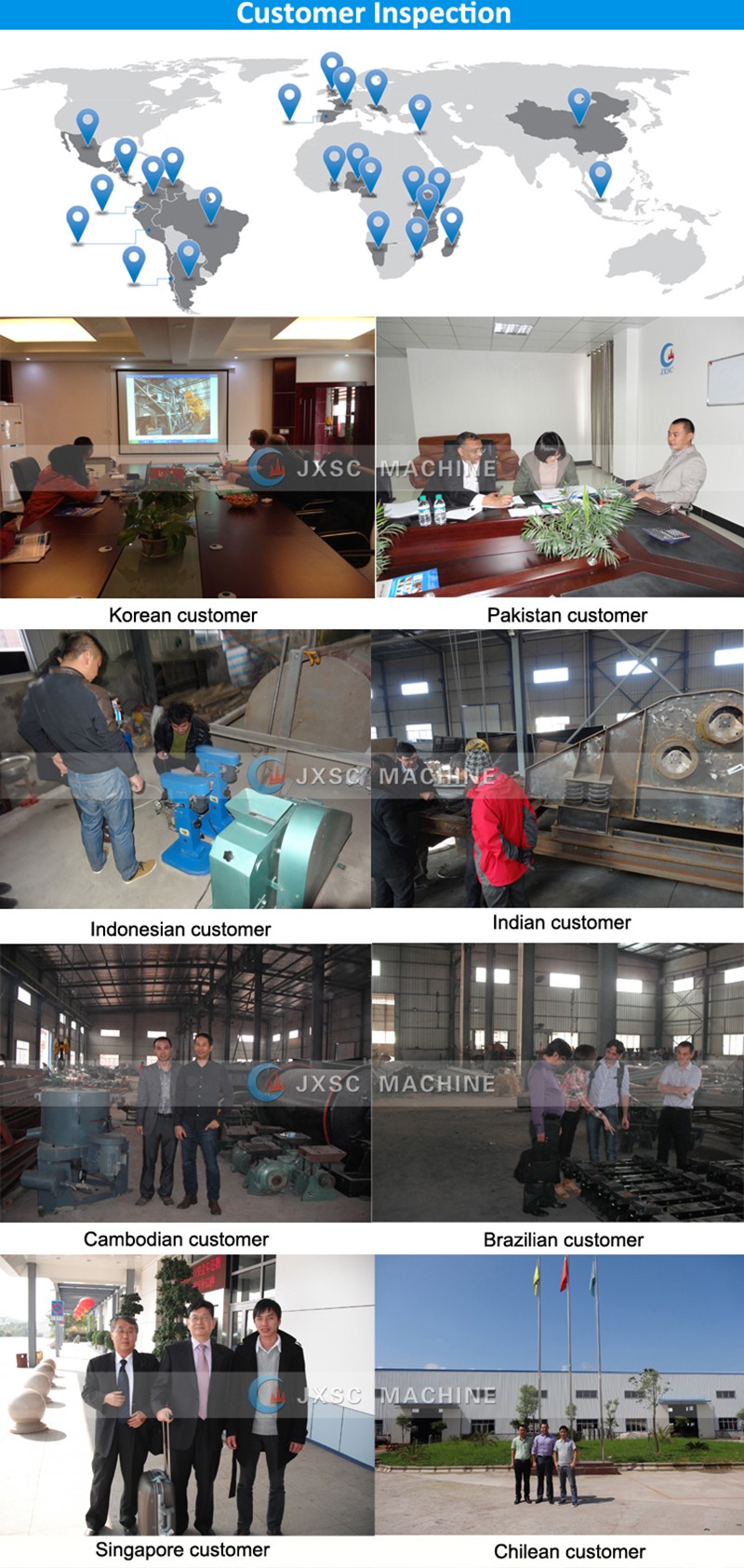 FAQ 1.How is the quality of your products?(mining equipment/machine)
Answer: Our products are manufactured strictly according to national and international standard, and we will take a test on every grinder before delivery.
2.Guaranteed:
Answer: All of our products are guaranteed for one year. If products quality is not consistent with the description as we described or the promise before you place order, we promise 100% refund.
3.How about price?
Answer: For the complete same machine, we can promise our quality is the best when the price same as other competitors, and our price can be lowest when the quality at standard level.
4.Service and Payment Terms?
Answer: We can accept T/T and L/C; 30% deposit, 70% balance before delivery, which is international trade practice; Finished product pictures will provide to customers before delivery.
Our service Pre-sales service: We provide you with the prophase plan, process flow design and manufacturer equipment according to your special demand.
Sales service: Send technicians to the jobsite guiding the installation and adjustment, training operators and finishing the check and accept together with you.
After-sales service: To establish long term friendship, we will reg-ularly pay return visit to customers. Supplying technique, building design, instruction, installation and debugging for free.
Lifelong service: One year warranty to make sure your machine runs constantly.Always offer lifelong service and provide spare parts for a long term.
Very good service help us win many clients from all over the world.

Contact us if you need more details on spiral chute. We are ready to answer your questions on packaging, logistics, certification or any other aspects about spiral chute classifier、gravity spiral chute. If these products fail to match your need, please contact us and we would like to provide relevant information.
Product Categories : Mineral Porceesing Equipment > Spiral Chut