60TPH Placer Gold Plant Washing Machine For Iran Gold
Product Description
#detail_decorate_root .magic-0{width:750px}#detail_decorate_root .magic-1{overflow:hidden;width:750px;height:102.68456375838926px;margin-top:0;margin-bottom:0;margin-left:0;margin-right:0}#detail_decorate_root .magic-2{margin-top:0;margin-left:0;width:750px;height:102.68456375838926px}#detail_decorate_root .magic-3{border-bottom-width:2px;border-bottom-style:solid;border-bottom-color:#53647a;background-color:#c5ccde;margin-left:0;margin-right:0;padding-left:8px;padding-right:8px;color:#53647a;font-family:Roboto;font-size:24px;padding-top:8px;padding-bottom:4px}#detail_decorate_root .magic-4{vertical-align:top}#detail_decorate_root .magic-5{vertical-align:top;display:block;padding-right:4px;box-sizing:border-box;padding-left:4px}#detail_decorate_root .magic-6{vertical-align:top;padding-bottom:4px;box-sizing:border-box;padding-top:4px}#detail_decorate_root .magic-7{padding:0;margin:0;white-space:pre-wrap;font-size:14px}#detail_decorate_root .magic-8{margin:0;padding:0}#detail_decorate_root .magic-9{overflow:hidden;width:750px;height:533.75px;margin-top:0;margin-bottom:0;margin-left:0;margin-right:0}#detail_decorate_root .magic-10{margin-top:0;margin-left:0;width:750px;height:533.75px}#detail_decorate_root .magic-11{width:446px}#detail_decorate_root .magic-12{overflow:hidden;width:446px;height:264.4743935309973px;margin-top:0;margin-bottom:0;margin-left:0;margin-right:0}#detail_decorate_root .magic-13{margin-top:-51.69272237196766px;margin-left:0;width:446px;height:334px}#detail_decorate_root .magic-14{width:300px;display:flex;flex-direction:column;margin-right:0;margin-left:4px}#detail_decorate_root .magic-15{padding:0;font-size:16px;line-height:20px;font-weight:bold;color:#333;margin:0}#detail_decorate_root .magic-16{width:300px;display:flex;flex-direction:column;margin-right:4px;margin-left:0}#detail_decorate_root .magic-17{margin-top:-113.00269541778977px;margin-left:0;width:446px;height:446px}#detail_decorate_root .magic-18{margin-top:-69.72506738544475px;margin-left:0;width:446px;height:334px}#detail_decorate_root .magic-19{padding:0;font-size:16px;line-height:20px;color:#333;margin:0}#detail_decorate_root .magic-20{margin-top:-175.5148247978437px;margin-left:0;width:587px;height:440px}#detail_decorate_root .magic-21{overflow:hidden;width:750px;height:750px;margin-top:0;margin-bottom:0;margin-left:0;margin-right:0}#detail_decorate_root .magic-22{margin-top:0;margin-left:0;width:750px;height:750px}#detail_decorate_root .magic-23{text-align:center;margin:0;padding:0}#detail_decorate_root .magic-24{width:750px;border-collapse:collapse}#detail_decorate_root .magic-25{padding:5px 10px;overflow:hidden;width:63px;box-sizing:content-box}#detail_decorate_root .magic-26{text-align:center}#detail_decorate_root .magic-27{padding:5px 10px;overflow:hidden;width:61px;box-sizing:content-box}#detail_decorate_root .magic-28{padding:5px 10px;overflow:hidden;width:68px;box-sizing:content-box}#detail_decorate_root .magic-29{padding:5px 10px;overflow:hidden;width:82px;box-sizing:content-box}#detail_decorate_root .magic-30{padding:5px 10px;overflow:hidden;width:53px;box-sizing:content-box}#detail_decorate_root .magic-31{padding:5px 10px;overflow:hidden;width:116px;box-sizing:content-box}#detail_decorate_root .magic-32{padding:5px 10px;overflow:hidden;width:94px;box-sizing:content-box}#detail_decorate_root .magic-33{padding:5px 10px;overflow:hidden;width:70px;box-sizing:content-box}#detail_decorate_root .magic-34{padding:5px 10px;overflow:hidden;width:90px;box-sizing:content-box}#detail_decorate_root .magic-35{padding:5px 10px;overflow:hidden;width:80px;box-sizing:content-box}#detail_decorate_root .magic-36{padding:5px 10px;overflow:hidden;width:75px;box-sizing:content-box}#detail_decorate_root .magic-37{padding:5px 10px;overflow:hidden;width:101px;box-sizing:content-box}#detail_decorate_root .magic-38{padding:5px 10px;overflow:hidden;width:78px;box-sizing:content-box}#detail_decorate_root .magic-39{overflow:hidden;width:750px;height:583px;margin-top:0;margin-bottom:0;margin-left:0;margin-right:0}#detail_decorate_root .magic-40{margin-top:0;margin-left:0;width:750px;height:583px}#detail_decorate_root .magic-41{font-size:32px}#detail_decorate_root .magic-42{font-size:18px}#detail_decorate_root .magic-43{padding:0;margin:0;color:#333;font-size:14px;padding-left:4px;font-weight:bold;white-space:pre-wrap}#detail_decorate_root .magic-44{font-size:24px}#detail_decorate_root .magic-45{font-size:16px}#detail_decorate_root .magic-46{overflow:hidden;width:750px;height:842.3590504451039px;margin-top:0;margin-bottom:0;margin-left:0;margin-right:0}#detail_decorate_root .magic-47{margin-top:0;margin-left:0;width:750px;height:842.3590504451039px}#detail_decorate_root .magic-48{overflow:hidden;width:750px;height:644.3228454172366px;margin-top:0;margin-bottom:0;margin-left:0;margin-right:0}#detail_decorate_root .magic-49{margin-top:0;margin-left:0;width:750px;height:644.3228454172366px}#detail_decorate_root .magic-50{overflow:hidden;width:750px;height:562.5px;margin-top:0;margin-bottom:0;margin-left:0;margin-right:0}#detail_decorate_root .magic-51{margin-top:0;margin-left:0;width:750px;height:562.5px}#detail_decorate_root .magic-52{overflow:hidden;width:750px;height:803.5714285714286px;margin-top:0;margin-bottom:0;margin-left:0;margin-right:0}#detail_decorate_root .magic-53{margin-top:0;margin-left:0;width:750px;height:803.5714285714286px}#detail_decorate_root .magic-54{padding:0;margin:0;color:#333;font-size:14px;white-space:pre-wrap}#detail_decorate_root .magic-55{overflow:hidden;width:750px;height:752.1398002853067px;margin-top:0;margin-bottom:0;margin-left:0;margin-right:0}#detail_decorate_root .magic-56{margin-top:0;margin-left:0;width:750px;height:752.1398002853067px}#detail_decorate_root .magic-57{overflow:hidden;width:750px;height:375px;margin-top:0;margin-bottom:0;margin-left:0;margin-right:0}#detail_decorate_root .magic-58{margin-top:0;margin-left:0;width:750px;height:375px}#detail_decorate_root .magic-59{overflow:hidden;width:750px;height:2210px;margin-top:0;margin-bottom:0;margin-left:0;margin-right:0}#detail_decorate_root .magic-60{margin-top:0;margin-left:0;width:750px;height:2210px}#detail_decorate_root .magic-61{margin-bottom:10px;overflow:hidden}

Product Description we have just deliveried a complete set
gold washing plant
equipments to our Ghana customer for their alluvial gold processing project. Customer have visited our factory for equipments delivery inspection.
This plant is 100T/H processing capacity, suitable for washing alluvial gold ore with sticky clay. The complete set machines
includes 1 set vibration feeder+1 set gold washing trammel scrubber+ 2 sets
Gold Centrifugal Concentrator
+ 2 sets gold sluice
box+1 set 6S
Shaking Table
+ 1 set Slurry pump + 1 set Water pump + 2 sets diesel generator+ 1 set
Belt Conveyor
.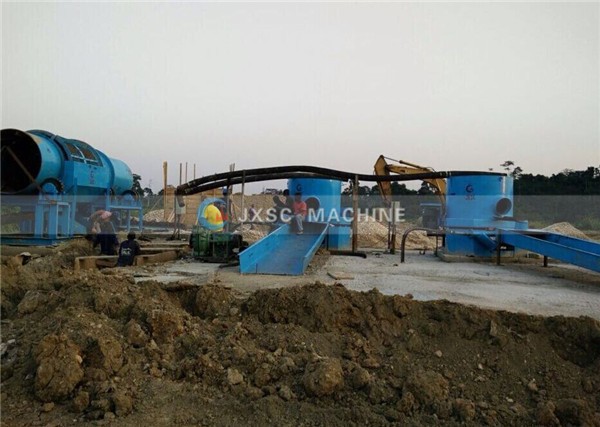 Gold centrifugal concentrator:  model STLB80, capacity 10-20t/h.
feeding size:0.2mm feeding density:0-50% power:15kw 6S shaking table table deck size lenght :4500mm transmission end width:1850mm concentrate end width :1650mm capacity 0.5-2t/h.  electric motor with 1.1KW.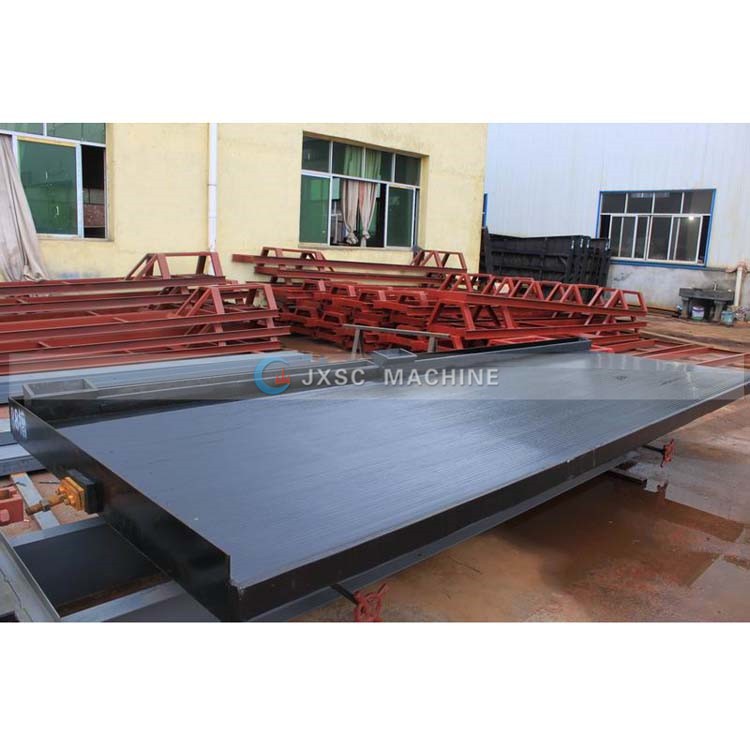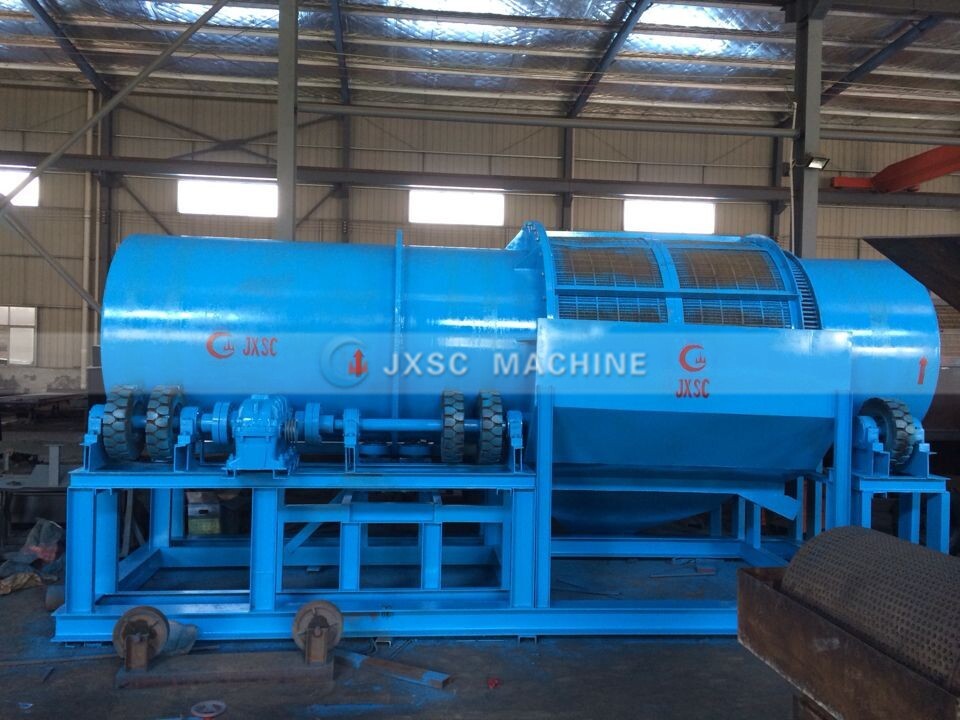 Gold washing trommel scrubber  model JXSC-1500, 100t/h capacity, drum diameter 1500mm, length of washing drum 4m, length of screen 2 m, two layers screen (PU +manganese steel material), rubber wheels transmission, manganese steel inner plates, electric motor with 37KW.
Gold Sluice Box
  length:6m width:1m high:0.35m capacity:30t/h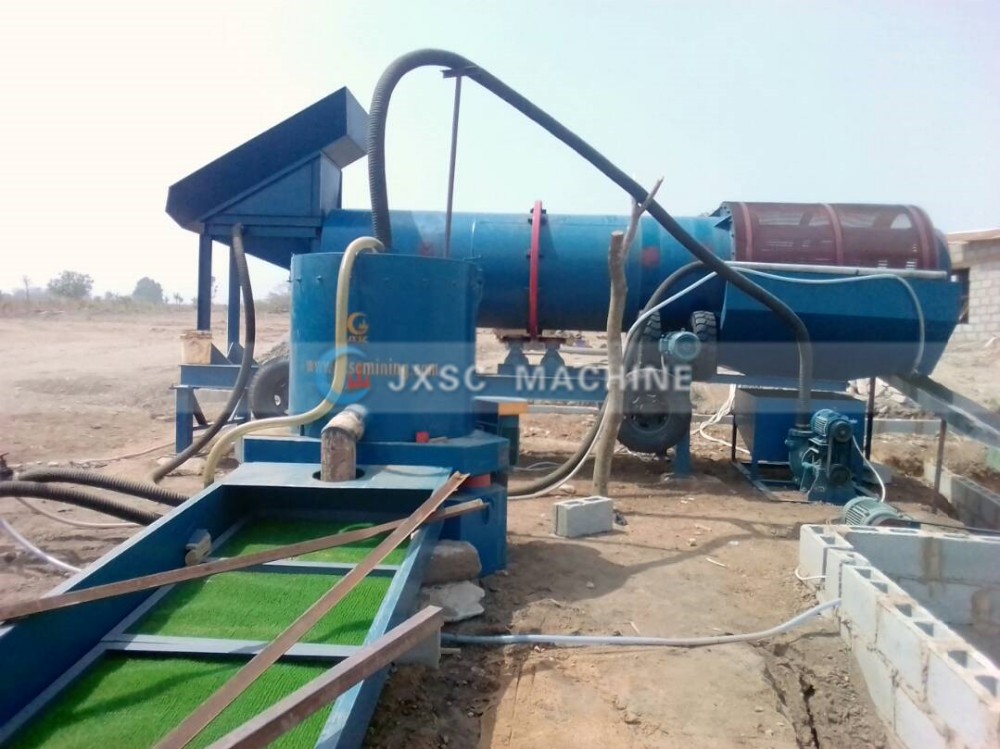 Technical data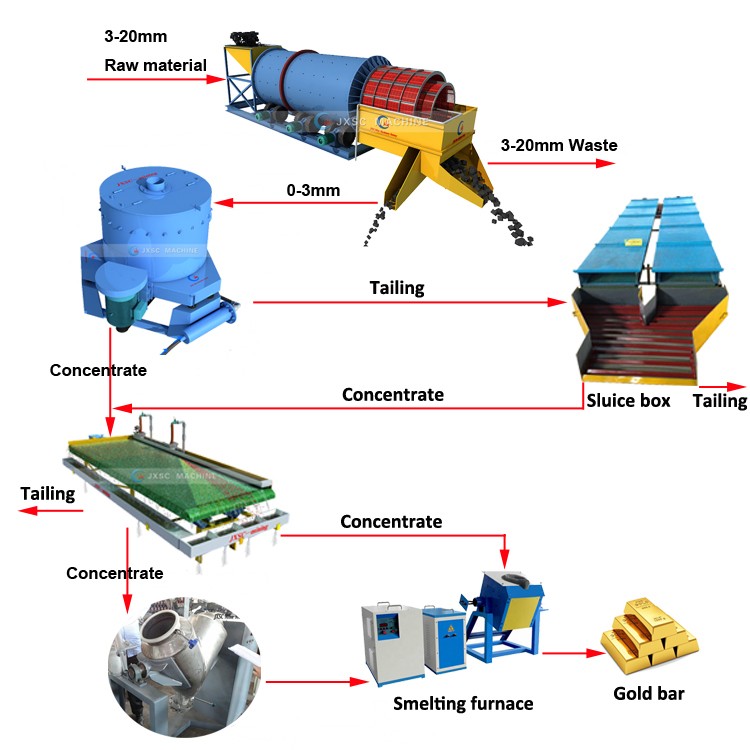 shaking table data  centrifugal concentrator data
washing trommel scrubber data
| | | | | | | |
| --- | --- | --- | --- | --- | --- | --- |
| | | | | Angle of inclination (degree) | | |
| | | | | | | |
| | | | | | | |
| | | | | | | |
| | | | | | | |
| | | | | | | |
| | | | | | | |
| | | | | | | |
| | | | | | | |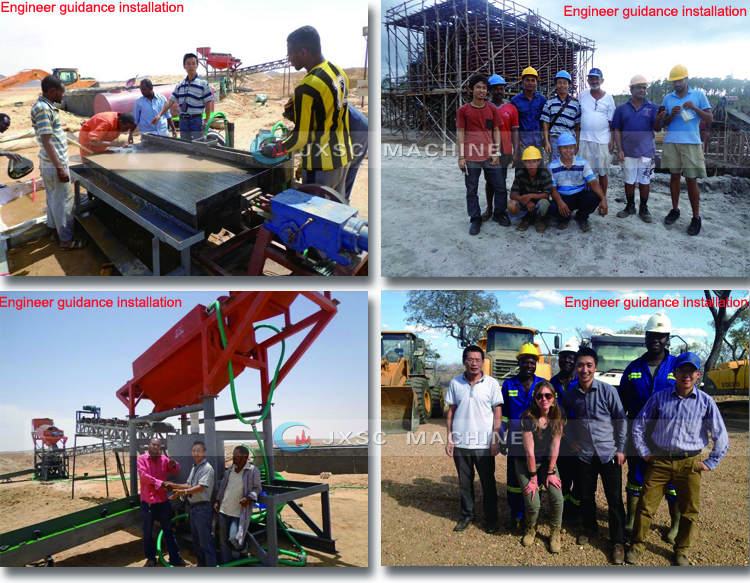 after-sales service We can send engineers to guide the installation and provide perfect after-sales service Products application Project case: 20t/h alluvial gold plant in Sudan
Order date: November,2018Ore process: Alluvial gold ore
Capacity: 20t/h
Site plant: In Sudan
Raw ore info: (1) Raw ore without sticky clay;(2)Max feeding size is 50mm; (3) Particle size of gold concentrate is 0-2mm;
(4)There is no gold between 5-50mm.
JXSC designed solution and provided full sets of equipment for the whole plant.
machines:trommel screen,sluice box, belt conveyor,shaking table ,centrifugal,pumps,etc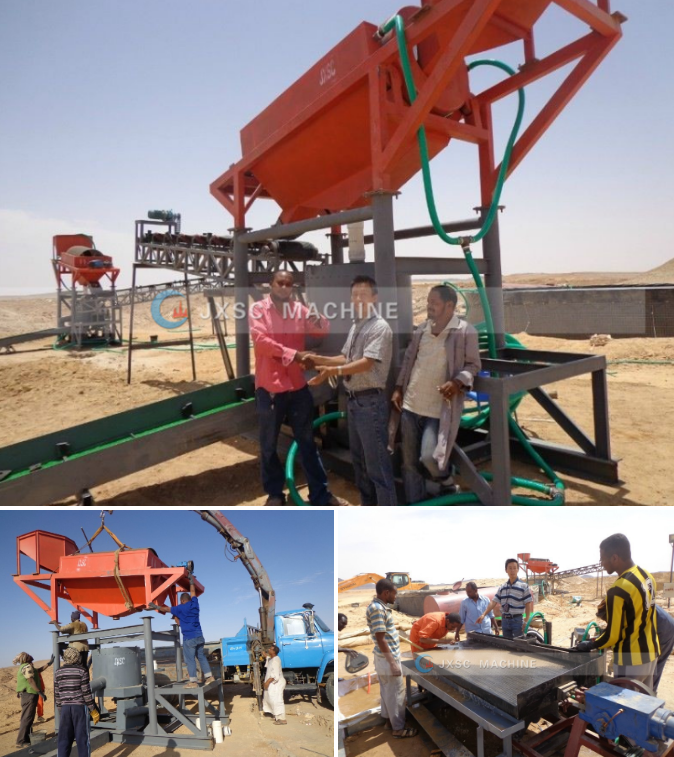 Gold washing machine trommel scrubber washer 250tph
Gold Trommel
in Australia
capacity:250tph
site;Australia
scrubber screen size:more than 50mm
machines:trommel scrubber,feeder,hopper,pumps and etc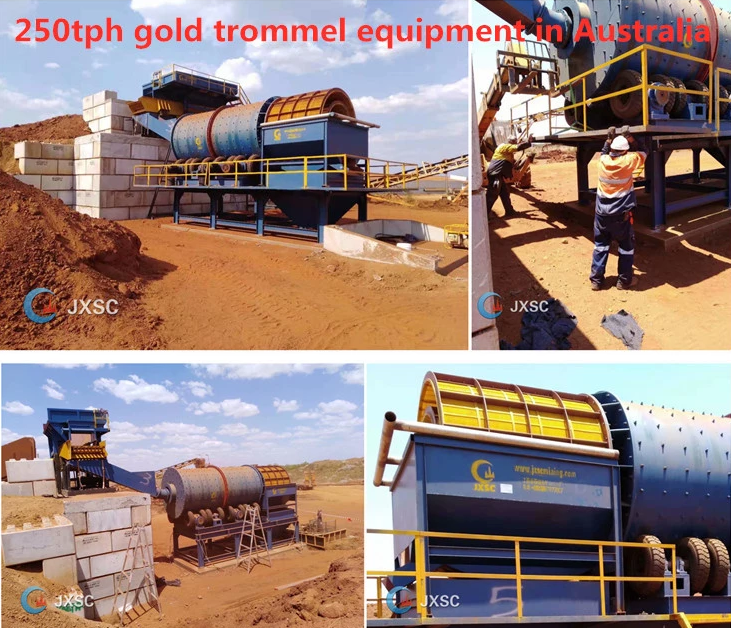 200TPH Gold Washing Plant in Ghana This customer found us from aliaba,earlier he didnt trust us,aferward our engineer gold flowchart for him,he started to believe in us,untill we invited him to visit our factor and he agreed it.After these,he totally believe in us.so he immediately placed a big order for a whole line equipment of 200tph gold wash plant.
the services we provided for this customer are as below:
1. Invited him to visit our factory.
2. Designed flowchart for his project.
3.Provided full sets of equipment for the whole line,including:trommel scrubber,vibration screen,sluice bos,belt conveyor.
4. Provided engineer overseas service for installation,commissioning,starting up and training.
5. Provided project solution.
(below show you site photos)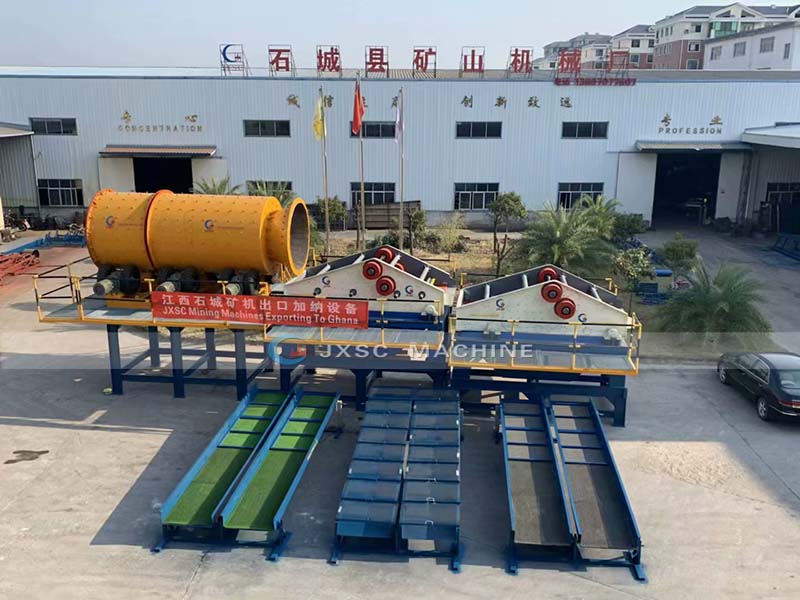 We have provided the trommel scrubber for many customers in Sudan,Mali, Mozambique, Nigeria, Suriname, Ghana, South Africa, Uganda, Zambia, Tanzania, Angola, Canada, Austrialia, Chile, Peru,ect. For Alluvail gold washing plant, coltan ore mining plant, diamond washing plant, Iron ore washing plant,ect.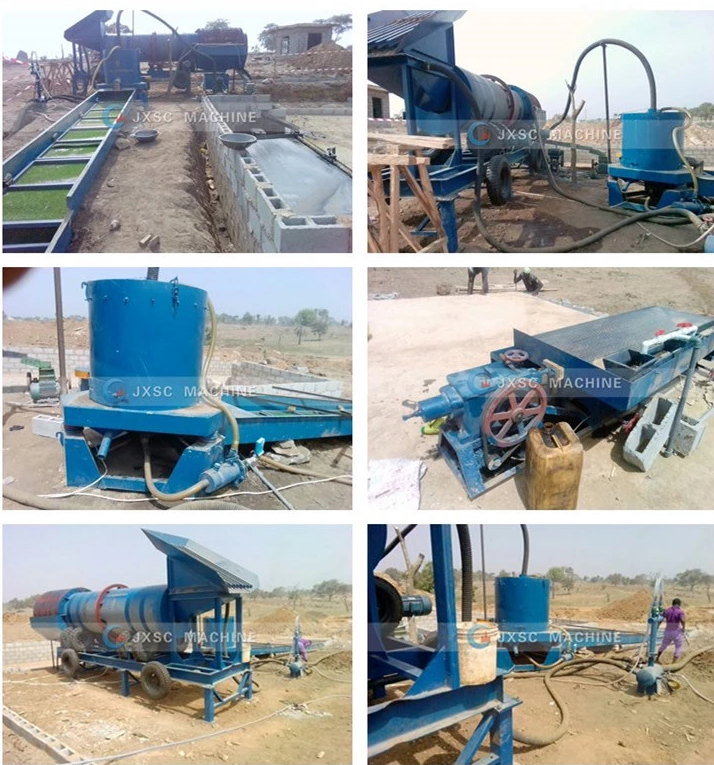 Packing & Delivery Machines  Packing/Loading machines
Spare Parts
would be packed in wooden boxes to avoid broken. 
machines are fixed and loaded in container directly.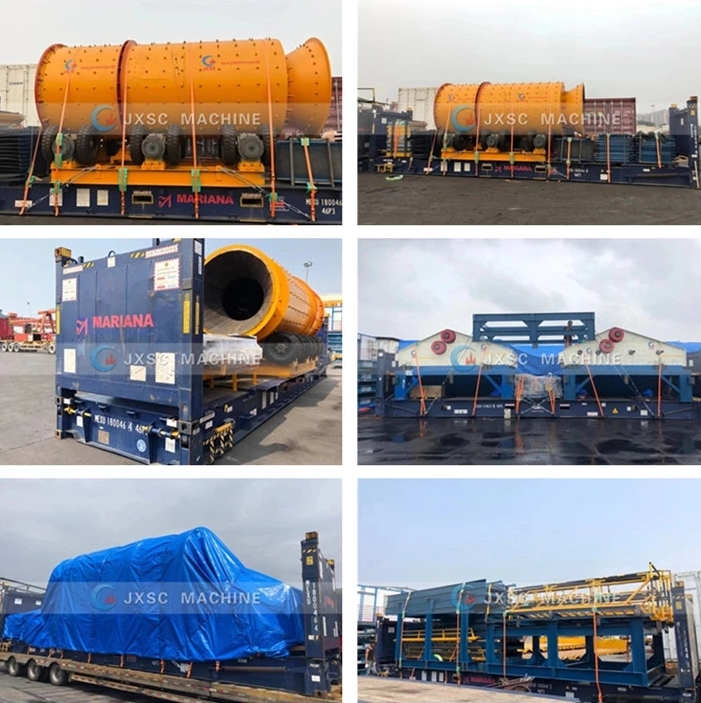 Machine Shipping machine are shipped in 40'HQ Containers by sea.
machine can be also shipped by air if customers request. 
Our Company
Jiangxi walker Machinery Co.,Ltd, is a professional manufacturer of complete set mining equipments, a sub-company of JXSC mine machinery factory in Jiangxi province. professional at providing complete set processing equipments for Gold ore /Tin ore /Tungsten ore /Iron ore / Diamond/ Coltan ore / Silica sand / Zircon sand/ Black sand/Chrome ore, ect. As well as complete set small lab mining machines.
Our Core Advantages as below :
1.+30 years history FACTORY at mining machinery
2.Provide engineer team after sales service
3.Provide Complete set
Mineral Processing Plant
4.Provide Sample testing service in factory lab for free
5.Provide professional Mining Solution Consulting
Our customer

FAQ 1.How is the quality of your products?(mining equipment/machine)
Answer: Our products are manufactured strictly according to national and international standard, and we will take a test on every grinder before delivery.
2.Guaranteed:
Answer: All of our products are guaranteed for one year. If products quality is not consistent with the description as we described or the promise before you place order, we promise 100% refund.
3.How about price?
Answer: For the complete same machine, we can promise our quality is the best when the price same as other competitors, and our price can be lowest when the quality at standard level.
4.Service and Payment Terms?
Answer: We can accept T/T and L/C; 30% deposit, 70% balance before delivery, which is international trade practice; Finished product pictures will provide to customers before delivery.
Our service Pre-sales service: We provide you with the prophase plan, process flow design and manufacturer equipment according to your special demand.
Sales service: Send technicians to the jobsite guiding the installation and adjustment, training operators and finishing the check and accept together with you.
After-sales service: To establish long term friendship, we will reg-ularly pay return visit to customers. Supplying technique, building design, instruction, installation and debugging for free.
Lifelong service: One year warranty to make sure your machine runs constantly.Always offer lifelong service and provide spare parts for a long term.
Very good service help us win many clients from all over the world. Contact us if you need more details on Washing Machine For Iran Gold. We are ready to answer your questions on packaging, logistics, certification or any other aspects about Gold Plant Washing Machine、60TPH Placer Gold Plant. If these products fail to match your need, please contact us and we would like to provide relevant information.
Product Categories : Gold Processing Plant