China Good Concentration Effect Gold Machine STL Series Centrifuge Concentrator
Product Description
#detail_decorate_root .magic-0{border-bottom-width:2px;border-bottom-style:solid;border-bottom-color:#53647a;background-color:#c5ccde;margin-left:0;margin-right:0;padding-left:8px;padding-right:8px;color:#53647a;font-family:Roboto;font-size:24px;padding-top:8px;padding-bottom:4px}#detail_decorate_root .magic-1{vertical-align:top}#detail_decorate_root .magic-2{vertical-align:top;display:block;padding-right:4px;box-sizing:border-box;padding-left:4px}#detail_decorate_root .magic-3{vertical-align:top;padding-bottom:4px;box-sizing:border-box;padding-top:4px}#detail_decorate_root .magic-4{padding:0;margin:0;white-space:pre-wrap;font-size:14px}#detail_decorate_root .magic-5{font-size:16px}#detail_decorate_root .magic-6{width:750px}#detail_decorate_root .magic-7{overflow:hidden;width:750px;height:750px;margin-top:0;margin-bottom:0;margin-left:0;margin-right:0}#detail_decorate_root .magic-8{margin-top:0;margin-left:0;width:750px;height:750px}#detail_decorate_root .magic-9{padding:0;margin:0;color:#333;font-size:14px;padding-left:4px;font-weight:bold;white-space:pre-wrap}#detail_decorate_root .magic-11{text-align:justify;background:#f6f6f1}#detail_decorate_root .magic-12{color:#000}#detail_decorate_root .magic-13{overflow:hidden;width:750px;height:540px;margin-top:0;margin-bottom:0;margin-left:0;margin-right:0}#detail_decorate_root .magic-14{margin-top:0;margin-left:0;width:750px;height:540px}#detail_decorate_root .magic-15{text-align:justify;text-justify:inter-ideograph;background:#f6f6f1}#detail_decorate_root .magic-16{font-family:"Times New Roman";color:#000}#detail_decorate_root .magic-17{font-size:48px}#detail_decorate_root .magic-18{margin:0;padding:0}#detail_decorate_root .magic-19{overflow:hidden;width:750px;height:577.1604938271605px;margin-top:0;margin-bottom:0;margin-left:0;margin-right:0}#detail_decorate_root .magic-20{margin-top:0;margin-left:0;width:750px;height:577.1604938271605px}#detail_decorate_root .magic-21{overflow:hidden;width:750px;height:746.0035523978685px;margin-top:0;margin-bottom:0;margin-left:0;margin-right:0}#detail_decorate_root .magic-22{margin-top:0;margin-left:0;width:750px;height:746.0035523978685px}#detail_decorate_root .magic-23{overflow:hidden;width:750px;height:498.75px;margin-top:0;margin-bottom:0;margin-left:0;margin-right:0}#detail_decorate_root .magic-24{margin-top:0;margin-left:0;width:750px;height:498.75px}#detail_decorate_root .magic-25{width:750px;border-collapse:collapse}#detail_decorate_root .magic-26{padding:5px 10px;overflow:hidden;width:63px;box-sizing:content-box}#detail_decorate_root .magic-27{text-align:center}#detail_decorate_root .magic-28{padding:5px 10px;overflow:hidden;width:59px;box-sizing:content-box}#detail_decorate_root .magic-29{padding:5px 10px;overflow:hidden;width:71px;box-sizing:content-box}#detail_decorate_root .magic-30{padding:5px 10px;overflow:hidden;width:85px;box-sizing:content-box}#detail_decorate_root .magic-31{padding:5px 10px;overflow:hidden;width:60px;box-sizing:content-box}#detail_decorate_root .magic-32{padding:5px 10px;overflow:hidden;width:101px;box-sizing:content-box}#detail_decorate_root .magic-33{overflow:hidden;width:750px;height:2210px;margin-top:0;margin-bottom:0;margin-left:0;margin-right:0}#detail_decorate_root .magic-34{margin-top:0;margin-left:0;width:750px;height:2210px}#detail_decorate_root .magic-35{overflow:hidden;width:750px;height:320px;margin-top:0;margin-bottom:0;margin-left:0;margin-right:0}#detail_decorate_root .magic-36{margin-top:0;margin-left:0;width:792px;height:316.8px}#detail_decorate_root .magic-37{overflow:hidden;width:750px;height:586px;margin-top:0;margin-bottom:0;margin-left:0;margin-right:0}#detail_decorate_root .magic-38{margin-top:0;margin-left:0;width:750px;height:585px}#detail_decorate_root .magic-39{padding:0;margin:0;color:#333;font-size:14px;white-space:pre-wrap}#detail_decorate_root .magic-40{padding:0;line-height:20px;margin:0}#detail_decorate_root .magic-41{font-size:32px}#detail_decorate_root .magic-42{margin-bottom:10px;overflow:hidden} Product Description Description of
Gold Centrifugal Concentrator
:Gold Centrifugal concentrator is most widely used for placer gold/alluvial gold/ river gold processing benefication, but also for hard rock mining to recover the natural gold, replacing amalgamation, also used to recover gold from the old tailings. Other recovery uses include Mercury, Palladium, Tantalum, Copper, Silver.
Features of gold centrifugal concentartor : high concentration, water saving, easy operation and long time working life. Usually, works together with trammel screen,
Shaking Table
, sluice box for the placer gold recovery mining plant.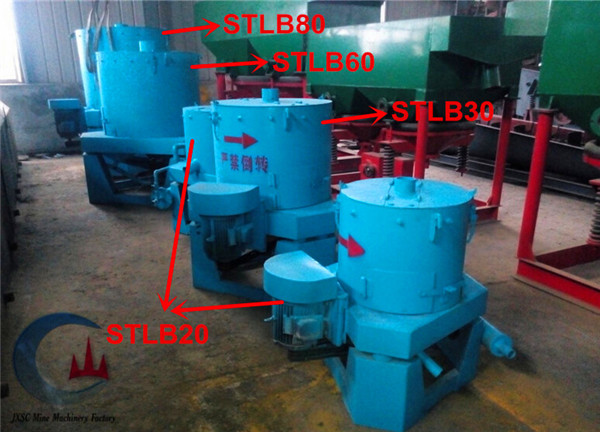 Features of Gold Centrifugal Concentrator : High concentrating ratio and high recovery Total process automation, steady recovery performance Low energy consumptions Environmentally friendly (requires no chemical additives or reagents)                                       Low water and electricity requirements                                                                                Low production costs, durable wear parts, minimal maintenances requirements                           Compact design requiring less space, easy merged into the existing mining processing                 Quick payback on investment                                        Gold Centrifugal Concentrator used for Alluvial
gold washing plant
: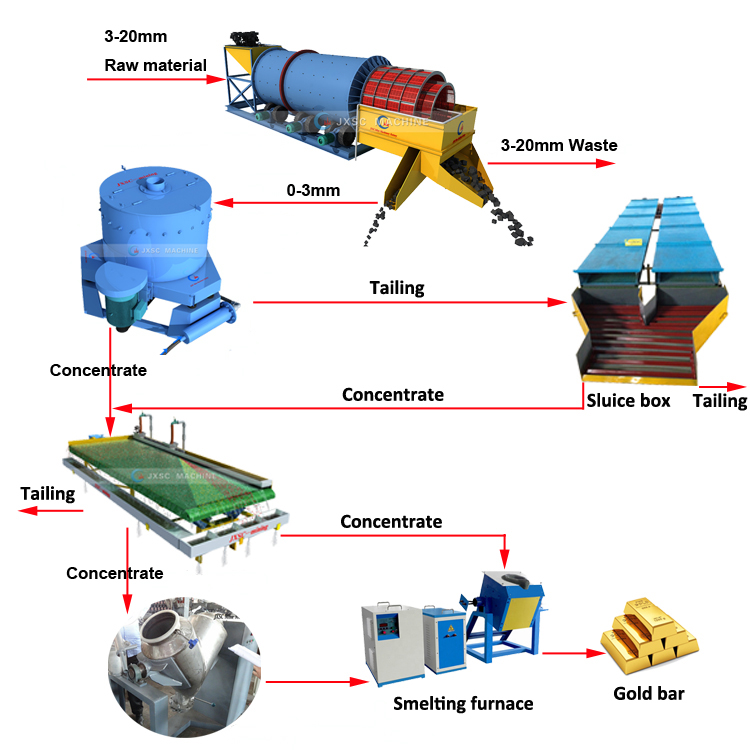 INQUIRY US NOW ! Products application Mineral Processing Gold Centrifugal Application
Crusher
-Ballmill-Gravity-Separator-Flation-Washing
Centrifugal Concentrator applies for alluvial gold, rock gold after grinding . mini gold concentrator
Application has shown that the recovery of gold can be very high, as much as 99% and the concentration ratio is up to 1,000 times. In the recovery of natural gold in lode ore that has a particle size of -0.074mm, the gold recovered is about 98%, for recovery of gold in a particle size of 0.004mm, it is up to 97% centrifugal gold concentrator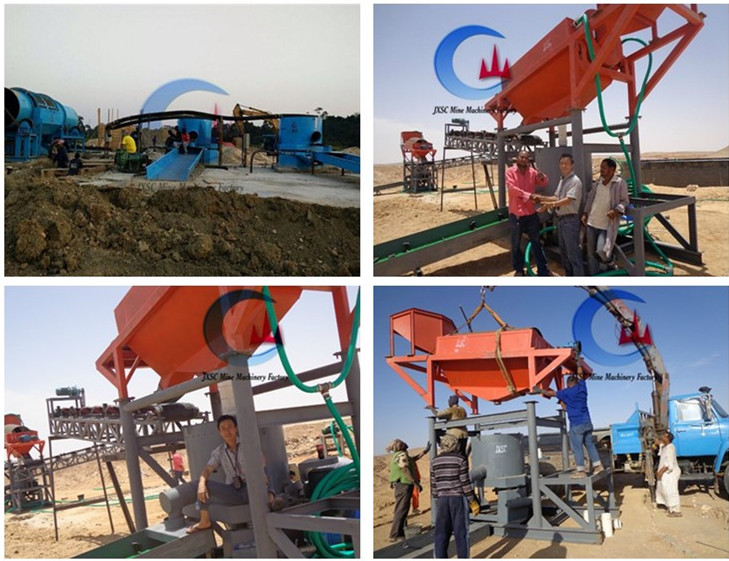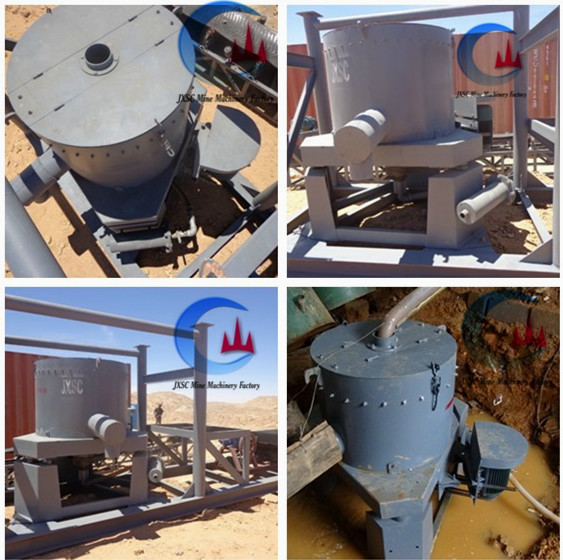 Packing & Delivery we pack the gold centrifugal concentrator with iron frame case or load directly in container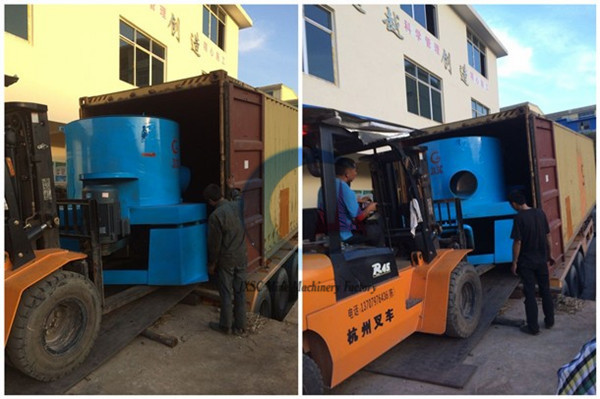 Technical data
INQUIRY US NOW ! Our customer

INQUIRY US NOW ! About Company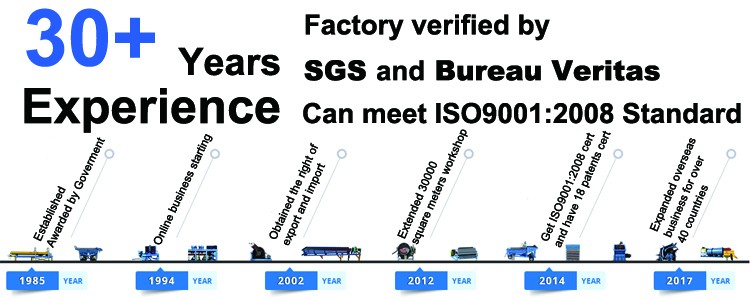 We , Jiangxi walker Machinery Co.,Ltd, are a professional manufacturer of complete set mining
equipments, a sub-company of JXSC mine machinery factory in Jiangxi province.
We are very professional at providing complete set processing equipments for Gold ore /Tin ore /Tungsten ore /Iron ore / Diamond/
Coltan ore / Silica sand / Zircon sand/ Black sand/Chrome ore, ect. As well as complete set small lab mining machines.
Our Core Advantages as below :
1.+30 years history FACTORY at mining machinery
2.Provide engineer team after sales service
3.Provide Complete set
Mineral Processing Plant
4.Provide Sample testing service in factory lab for free
5.Provide professional Mining Solution Consulting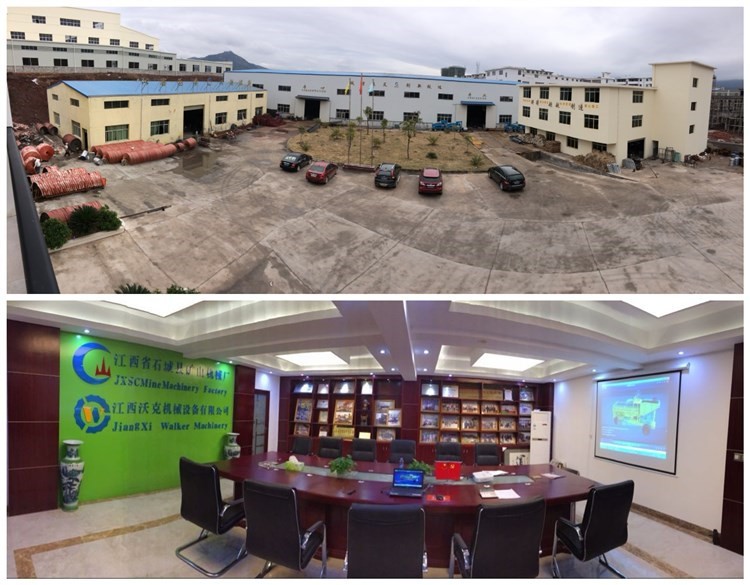 Welcome to Contact US Now ! 
Contact us if you need more details on STL Series Centrifuge Concentrator. We are ready to answer your questions on packaging, logistics, certification or any other aspects about STL Series Centrifuge Concentrator、Gold Machine. If these products fail to match your need, please contact us and we would like to provide relevant information.
Product Categories : Mineral Porceesing Equipment > Gold Centrifugal Concentrator